Kemerataan Belalang Di Agroekosistem Zea mays L. Kecamatan Karanggayam
Keywords:
Kata kunci: Belalang, Kemerataan, Agroekosistem, Zea mays L., Karanggayam.
Abstract
ABSTRAK
Belalang memiliki peran penting dalam rantai makanan, khususnya di lahan pertanian. Belalang memiliki peranan sebagai herbivora, predator, dekomposer, dan hama sehingga berpotensi dijadikan sebagai indikator kualitas lahan pertanian maupun sebagai indikator ekologi terhadap kualitas ekosistem terkait jaringan ekologi. Penelitian  ini bertujuan untuk mengetahui kemerataan belalang pada agroekosistem tanaman jagung (Zea mays L.) di kecamatan Karanggayam, Kabupaten Kebumen. Penelitian ini bersifat deskriptif kuantitatif. Penelitian ini dilakukan dengan metode survai lapangan. Parameter yang diamati pada setiap lokasi meliputi pengumpulan belalang dan pengamatan langsung terhadap belalang ordo orthoptera. Pengukuran faktor lingkungan dengan mengambil data temperatur dan kelembaban. Sampel diambil dari agroekosistem Zea mays L. diulang sebanyak tiga kali. Penelitian dilakukan pada bulan Juni - Agustus 2019. Data dianalisis dan dihitung nilai kemerataan, kemudian dianalisis secara deskriptif dan diidentifikasi sampai tingkat spesies. Secara keseluruhan ddidapatkan empat spesies yang terdiri dari Valanga nigricornis (Burmeister), Gesunola mundane (Walker), Atractomorpha crenulata, dan Oxya hyla intricate (Stal). Hasil penelitian ini didapatkan nilai Indeks kemerataan stasiun 1 sebesar 0,811 (tinggi), stasiun 2 sebesar 0,706 (sedang), stasiun 3 sebesar 0,409 (rendah), stasiun 4 sebesar 0,875 (tinggi), stasiun 5 sebesar 0,638 (sedang) dan stasiun 6 sebesar 0,746 (sedang).
Kata kunci: Belalang, Kemerataan, Agroekosistem, Zea mays L., Karanggayam.
References
Akthar, M. H., Nayeem, M. R., & Usmani, M. H. (2014). Abundance, Distribution and Taxonomic Studies on Hemiacrididae (Acridiade: Acridoidea: Orthoptera) in Uttar Pradesh, India. Journal of global biosciences, 3 (6), 48-52.
Almeida, A.V., & Camara, C.A.G. (2008). Distribution of Grasshoppers (Othoptera: Acridoidea) in The Tapacurá Ecological Station (São Lourenço da Mata, PE / Brazil). Braz. J. Biol, 68 (1), 21-24.
Badenhausser, I., Gross, N., Cordeau, S., Bruneteau, L. & Vandier, M. (2015). Enhancing grasshopper (Orthoptera:Acrididae) communities in sown margin strips: the role of plant diversity and identity. Arthropod-Plant Interaction.
Bazelet, C. S., & Samways M. J. (2011). Identifying grasshopper bioindicators for habitat quality assessment of ecological networks. Ecological Indikator, 11 (5), 1259-1269.
Borror, D. J., Triplehor, N., & Johnson, N. F. Pengenalan Pelajaran Serangga Edisi ke-Enam. Terjemahan oleh Dr. H Setiyono Partosoedjoyono. (1989). Yogyakarta : Gajah Mada University.
Borror, D, J. (2005). Introduction to the Study Insects 7th Edition. Thoomson Brok. Amerika.
Erniawati. (2009). Keanekaragaman dan Sebaran Serangga Di Kawasan Pulau-pulau Kecil Taman Nasional Karimunjawa. Berita Biologi. 9, (4), 349-358.
Erniwati. (2003). Pola Aktivitas Dan Keanekaragaman Belalang (Insecta: Orthoptera) Di Taman Nasional Gunung Ciremai, Kuningan, Jawa Barat. Jurnal Biologi Indonesia, 5 (3), 319–28.
Haneda. (2013). Keanekaragaman Serangga Di Ekosistem Mangrove. Jurnal Silvikultur Tropika, 4 (1), 42–46.
Irwanto, R & T. M. Gusnia. Keanekaragaman Belalang (Orthoptera:Acrididae) Pada Ekosistem Sawah Di Desa Banyuasin Kecamatan Riau Silip Kabupaten Bangka. e-Jurnal Ilmiah Biosaintropis (Bioscience-Tropic), 6 (2), 78 – 85.
Ivakdalam, L. M. (2011). Agroekosistem pertanaman jagung di desa sasa Provinsi Maluku Utara. Agrikan, 4 (1), 23-29.
Johnson, D. L. (2008). Grasshopper identification and control methods to protect crops and the environment. Agriculture and Agro-food Canada.
Jumar. (2000). Entomologi Pertanian. Jakarta : PT. Rineka Cipta.
Kumar, H, & Usmani M. K. (2014). Taxonomic studies on Acrididae (Orthoptera: Acridoidea) from Rajasthan (India). Journal of Entomology and Zoology Studies, 2 (3), 131-146.
Meyer. (2001). Dasar-Dasar Perlindungan Tanaman. Universitas Gajah Mada. Yogyakarta.
Nair, K.S.S. & Sumardi. (2000). Insect Pests and Diseases of Major Plantation Species dalam Nair, K.S,S (Ed). Insect Pests and Diases in Indonesian Forests. An Assessement of the Major Treats, Reasearch Efforts and Literature. Cifor. Bogor.
Odum, E.P. (1993). Dasar-dasar Ekologi. Dialihbahasakan oleh Tjahjono Samingan. Edisi Ketiga. Yogyakarta: Gadjah Mada University Press.
Seino, R. A., & Njoya, M. T. M. (2018). Species Diversity of Pyrgomorphidae (Orthoptera: Caelifera) Grasshoppers in the North West Region of Cameroon. International Journal of Zoology and Applied Biosciences, 3 (1), 104-109.
Semiun, C., G. dan Y. I. Mamulak. (2019). Keanekaragaman Jenis Belalang (Ordo Orthoptera) Di Pertanian Kacang Hijau (Vigna radiata L.) Desa Manusak Kabupaten Kupang. Stigma, 12 (2), 66-70.
Sugiarto, A. (2018). Inventarisasi Belalang (Orthoptera: Acrididae) Di Perkebunan Dan Persawahan Desa Serdang Menang, Kecamatan Sirah Pulau Padang, Kabupaten Ogan Komering Ilir. Kumpulan Artikel Insect Village, 1 (1), 7-10.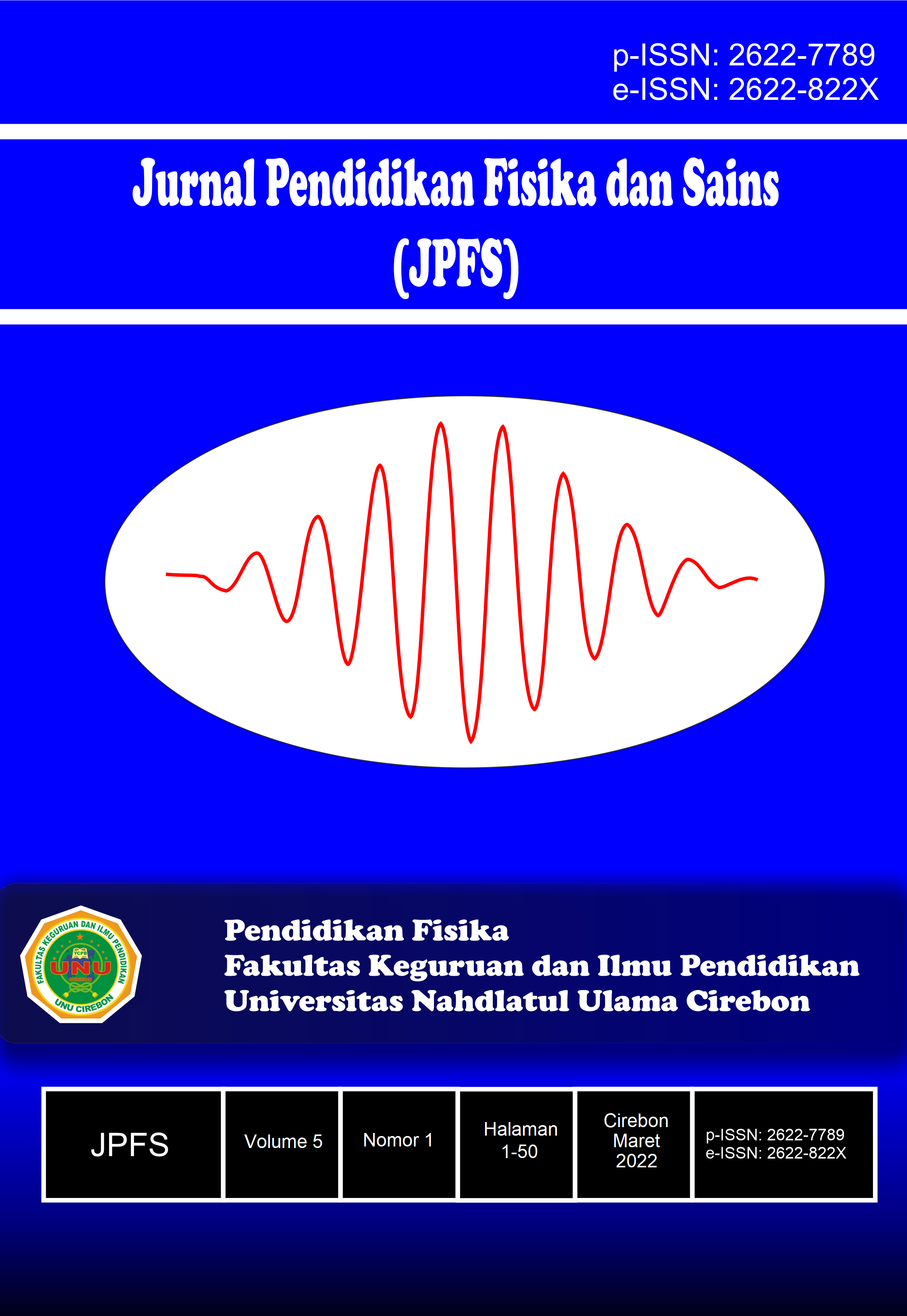 How to Cite
Prakoso, B. (2022). Kemerataan Belalang Di Agroekosistem Zea mays L. Kecamatan Karanggayam. Jurnal Pendidikan Fisika Dan Sains (JPFS), 5(1), 23-29. https://doi.org/10.52188/jpfs.v5i1.210
Copyright Transfer Agreement
The Authors submitting a manuscript do so on the understanding that if accepted for publication, copyright of the article shall be assigned to Jurnal Pendidikan Fisika dan Sains (JPFS) and Physics Education Programs of UNU Cirebon as publisher of the journal.
Copyright encompasses exclusive rights to reproduce and deliver the article in all form and media, including reprints, photographs, microfilms and any other similar reproductions, as well as translations. The reproduction of any part of this journal, its storage in databases and its transmission by any form or media, such as electronic, electrostatic and mechanical copies, photocopies, recordings, magnetic media, etc. , will be allowed only with a written permission from Jurnal Pendidikan Fisika dan Sains (JPFS) and UNU Cirebon.
Authors are permitted to disseminate published articles by sharing the link/DOI of the article at the journal. Authors are allowed to use their articles for any legal purposes deemed necessary without written permission from the journal with an acknowledgment of initial publication to this journal.
Jurnal Pendidikan Fisika dan Sains (JPFS) and UNU Cirebon and the Editorial Board make every effort to ensure that no wrong or misleading data, opinions or statements be published in the journal. In any way, the contents of the articles and advertisements published in the Jurnal Pendidikan Fisika dan Sains (JPFS) are sole and exclusive responsibility of their respective authors and advertisers.