The IMPLEMENTATION OF PHYSICS LEARNING MEDIA IN VISCOSITY TUBE WITH VIDEO ANALYSIS USING SOFTWARE TRACKER
IMPLEMENTASI MEDIA PEMBELAJARAN FISIKA BERUPA TABUNG VISKOSITAS DENGAN ANALISIS VIDEO MENGGUNAKAN SOFTWARE TRACKER
Keywords:
Learning media, viscosity, tracker software
Abstract
This study aims to determine student responses from the implementation of physics learning media in the form of viscosity tubes with video analysis using tracker software. In the preliminary study that has been done previously, the authors found several problems including students feeling that physics is difficult, too many formulas, and boring. In addition, students also have not been able to apply the knowledge that has been obtained at school in everyday life related to physics material. The causal factors that occur in schools related to the achievement of understanding essential physics concepts that have not been optimally mastered by students in learning include: less interactive learning media, incomplete experimental kits, and lack of student motivation. The research method used is Research & Development. The sampling technique of this research is purposive sampling. The instrument used was a questionnaire containing eight statements with a score range of 1 to 5 on a Likert scale. The research results obtained are the use of viscosity tube media and video analysis using tracker software, students can easily understand the material and make learning more fun.
References
Akhlis, I dkk. (2019). The Determination of Fluid Viscosity Using Tracker-assisted Falling Ball Viscosimeter. Journal of Physics: Conference Series.
Baert, Helena. (2014). The Effects of Role Modeling on Technology Integration Within Physical Educaton Teacher Education. JTRM in Kinesiology.
Palelupu, Davik Neo dan Mochammad Cholik. (2014). Pengembangan Media Pembelajaran Berbasis Adobe Flash Cs5 Mata Diklat Gambar Teknik Dikelas X TPM SMK Krian 1 Sidoarjo. Surabaya: Universitas Negeri Surabaya
Rasyid, M., Azis, A. A., & Saleh, A. R. (2017). Pengembangan media pembelajaran berbasis multimedia dalam konsep sistem indera pada siswa kelas XI SMA. Jurnal Pendidikan Biologi, 7(2), 69-80.
Septarini, R.A., dan Kholiq, A. (2021). Pengembangan Media Prest Untuk Meningkatkan Keterampilan Berpikir Kritis Peserta Didik Sma Pada Materi Momentum Dan Impuls. Jurnal Inovasi Pendidikan Fisika Volume 10. No. 1
Sugiono. 2015. Metode Penelitian Pendidikan. Bandung: Alfa Beta
Sugiyono. (2011). Metode Penelitian Pendidikan Pendekatan Kuantitatif, Kualitatif Dan R & D. Bandung: Alfa beta.
Tafonao, T.(2018). Peranan Media Pembelajaran Dalam Meningkatkan Minat Belajar Mahasiswa. Jurnal Komunikasi Pendidikan, Volume 2 No.2. E-ISSN 2549-4163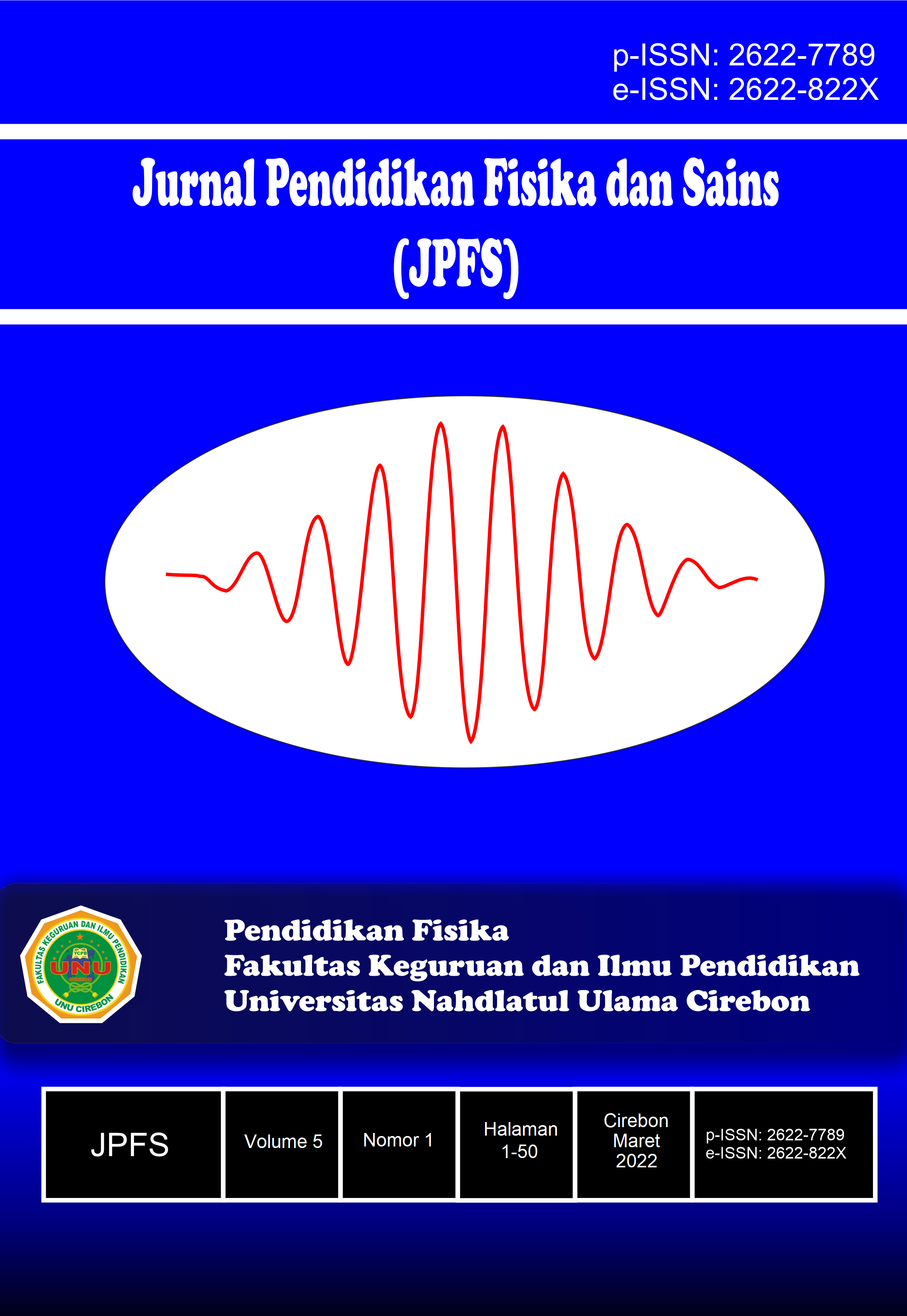 How to Cite
Putra, B. E. (2022). The IMPLEMENTATION OF PHYSICS LEARNING MEDIA IN VISCOSITY TUBE WITH VIDEO ANALYSIS USING SOFTWARE TRACKER: IMPLEMENTASI MEDIA PEMBELAJARAN FISIKA BERUPA TABUNG VISKOSITAS DENGAN ANALISIS VIDEO MENGGUNAKAN SOFTWARE TRACKER. Jurnal Pendidikan Fisika Dan Sains (JPFS), 5(1), 10-15. https://doi.org/10.52188/jpfs.v5i1.207
Copyright Transfer Agreement
The Authors submitting a manuscript do so on the understanding that if accepted for publication, copyright of the article shall be assigned to Jurnal Pendidikan Fisika dan Sains (JPFS) and Physics Education Programs of UNU Cirebon as publisher of the journal.
Copyright encompasses exclusive rights to reproduce and deliver the article in all form and media, including reprints, photographs, microfilms and any other similar reproductions, as well as translations. The reproduction of any part of this journal, its storage in databases and its transmission by any form or media, such as electronic, electrostatic and mechanical copies, photocopies, recordings, magnetic media, etc. , will be allowed only with a written permission from Jurnal Pendidikan Fisika dan Sains (JPFS) and UNU Cirebon.
Authors are permitted to disseminate published articles by sharing the link/DOI of the article at the journal. Authors are allowed to use their articles for any legal purposes deemed necessary without written permission from the journal with an acknowledgment of initial publication to this journal.
Jurnal Pendidikan Fisika dan Sains (JPFS) and UNU Cirebon and the Editorial Board make every effort to ensure that no wrong or misleading data, opinions or statements be published in the journal. In any way, the contents of the articles and advertisements published in the Jurnal Pendidikan Fisika dan Sains (JPFS) are sole and exclusive responsibility of their respective authors and advertisers.