Pengembangan PDEODODE-Ws yang Berorientasi Mengubah Konsepsi Siswa pada Sistem Hidrolik
Dewi Yulianawati

Universitas Nahdlatul Ulama Cirebon
Keywords:
Miskonsepsi, Conceptual Change, PDEODODE
Abstract
Pembelajaran fisika harus memfasilitasi siswa untuk berperan secara aktif dan interaktif agar terciptanya suasana untuk mengubah konsepsi siswa, salah satunya dengan menggunakan lembar kerja siswa (worksheet) yang berbasis PDEODODE. Pendekatan faktual dan konseptual menjadi dasar dalam pengembangannya. PDEODODE merupakan modifikasi strategi pembelajaran yang tahapannya meliputi Predict, Discuss, Explain, Observe, Discuss, Observe, Discuss dan Explain. Tujuan pengembangan PDEODODE-Ws adalah memfasilitasi siswa untuk mengubah konsepsi mengenai konsep dalam sistem hidrolik.  PDEODODE-Ws dikembangkan dengan menggunakan model ADDIE yang terdiri dari beberapa langkah, yaitu: Analyzing, Design, Development, Implementation dan Evaluation. Penelitian ini dilakukan kepada 32 siswa kelas XI di salah satu SMA Negeri Kabupaten Kuningan. Hasil penelitian yang diperoleh bahwa PDEODODE-Ws dapat memfasilitasi siwa untuk memahami konsep fisika secara komprehensif dan memiliki potensi untuk mengungkap konsepsi siswa selama proses pembelajaran.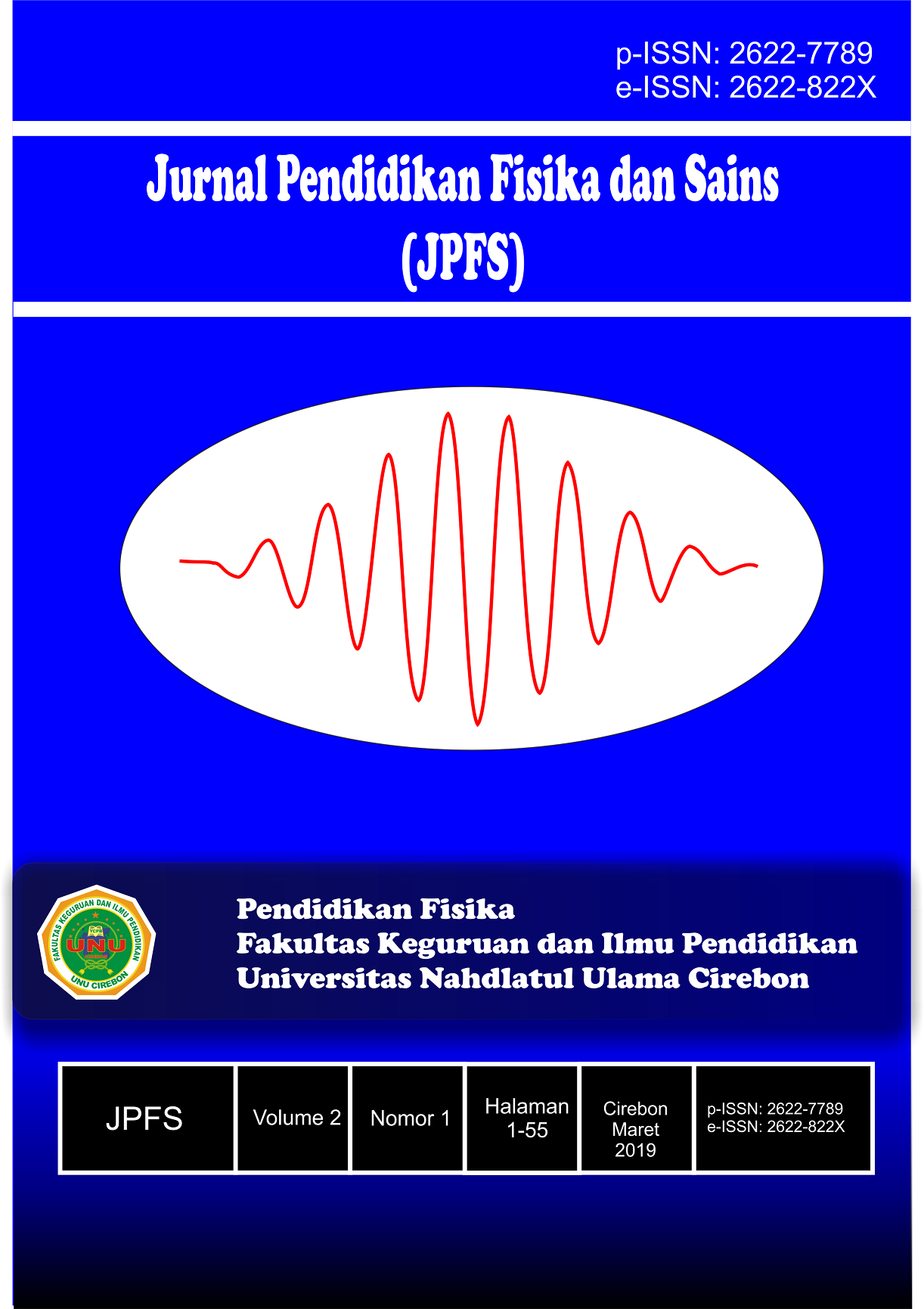 How to Cite
Yulianawati, D. (2019). Pengembangan PDEODODE-Ws yang Berorientasi Mengubah Konsepsi Siswa pada Sistem Hidrolik. Jurnal Pendidikan Fisika Dan Sains (JPFS), 2(1), 1-5. Retrieved from http://journal.unucirebon.ac.id/index.php/jpfs/article/view/13
With the receipt of the article by the Jurnal Pendidikan Fisika dan Sains (JPFS) Editorial Board and the decision to be published, then the copyright regarding the article will be diverted to Jurnal Pendidikan Fisika dan Sains (JPFS).

Jurnal Pendidikan Fisika dan Sains (JPFS) by http://journal.unucirebon.ac.id/index.php/jpfs is licensed under a Creative Commons Attribution-ShareAlike 4.0 International License.